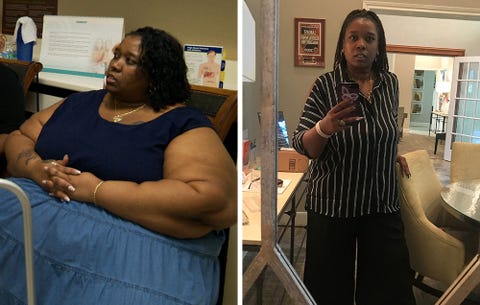 Compare the top online senior dating sites to find the best dating websites for you. Find love with The Top 10 Sites's comparison engine We compare some of the best senior dating websites for finding the one online. From the top dating sites, to those that offer free matches, this is the place to start. Updated for December 2018. Advertiser Disclosure. Dating Brand A content writer and marketing strategist, Allison has over 8 years experience in writing and editing online reviews. She is constantly testing and reviewing a wide range of online services. Most Commonly Asked Questions About Senior Dating Sites. Looking for that ever elusive love connection? Tired of that same old bar/club scene?
Hi, I'm new to the forums and in the starting stages of obtaining a VSG. Just looking to see if there are any other men who were above 400 (or even close to 500) pounds before starting this journey and how life after surgery has been. Did you suffer any complications from surgery due to your size?
Did your doctor make you do anything extra or warn you of any possible issues? Did you lose more rapidly than average patients?
Did you lose any motivation when you had lost enough weight to lead a fairly "normal" life, even though you might still have a good amount of excess weight? A little background...I'm 31, 5'10", and honestly can't bear how difficult my weight has made my life. Just this weekend my wife went alone to her sister's engagement at a restaurant due to my fear the chairs wouldn't be supportive enough. (I typically avoid restaurant situations unless there's a booth with a table I can adjust, ideally half booth/half chairs.) I've avoided flying for a couple years, will only attend theatre or sporting events where I can be guaranteed an aisle seat, etc.
It seems like in the last 60 or so pounds many social situations involving sitting have escalated from very uncomfortable to more or less unbearable. , I have hypertension and am very likely will be diagnosed with apnea once the results of my sleep study last week come in.
Look forward to hearing from any of you have started in similar situations. Started at 420+, but had been as high as 460# in the past. Lost about 130, gotten under 300# when my maintenance kicked in at 9 months out (I had gastric bypass), which meant the rapid weight loss period was over and loss became much slower but still is steady, slow and steady. It is great you are thinking of this now.
I did not do this until 63 years old and wish I had done it at your age. I had led a full active life, even flying 30 times a year with a seat belt extension, but at 60 years old my normally healthy bod finally did what the docs had always said it would do -- apnea, diabetes, edema, heart problems, bad cholesterol readings, etc.
I also was at risk of losing mobility -- walking and running my small farm were huge barriers. I missed alot with my kids because of the weight and it certainly effected my relationship, even though we are going on 40 years together. So, now, 11 months out, diabetes 90% better; edema gone; heart strong; blood readings perfect. The apnea goes away for some, but mine is likely genetic as a slim dad and a slim brother both had severe apnea.
I will have a study when I am at goal weight but likely will still use the CPAP.... not problem. My mobility is so much better. I can ride a bike again, swimming is much easier. Today, spent the entire day maintaining irrigation ditches and working my greenhouse, no problem at all. Walking my dog three times a day, no problem. BTW, my results are fairly typical. Negatives -- the first week was a bit painful, but could get out within 10 days The first month post surgery was challenging, mainly learning to eat so differently, quantity so much less, etc.
but now am used to it without any real challenges. I do eat too many carbs, but not to much excess really, am working on that, guess what I am saying that challenges don't stop.
I found that the rapid weight loss was very debilitating -- did not have much energy even though almost always ate healthy according to instructions and took my etc. I was actually glad when the loss slowed, as I needed the energy in my work. It is tempting to declare victory and say that with these great results, that is enough. However, I have been fat since I was 3 years old, and I want to experience not being overweight!
I did not have any unusual prep instructions, pretty routine. You really deserve to have this monkey off your back. I encourage you to reclaim your life! Edited April 4, 2016 by VDB @ Apologies for the delay in replying... Apologies for the possible length of this post... Once I get on a roll, who knows where I could end up...
Anyway, here goes... Firstly, a little about me... I was sleeved on Feb 25, 2015. I was 45 yrs old. At my heaviest, I weighed 255kg.. That's 562 pounds.. (We use kg in Australia but as the majority here use pounds, I usually do the math to make it easier) I was one of the lucky ones... Despite my weight, I had NO co-morbidities... No diabetes, no cholesterol, not even high blood pressure... In the lead up to my surgery, my surgeon pulled no punches..
He made me fully aware that there were no guarantees he'd go thru with the surgery until he'd opened me up.. He was concerned about the fat around my lived and his ability (or inability) to get into where he needed to... To give me the best chance, he put me on a ' only' diet for 4 weeks prior to the operation...
I can tell you now, that was the hardest 4 weeks of my life... What made it worse was knowing that it could all be for nothing... Anyway, I stuck with it for the four weeks (had a couple of hiccups along the way, but nothing I hid from the surgeon) and surgery day came... Long story short(ish), the surgery was a success...
I did three nights in hospital... Again, I must be one of the lucky ones... I had no complications... No pain... Nothing... The nurses kept insisting that I use the 'pain pump', so I did... But I didn't really think I needed to.. The worst part of the whole thing was, for the first eight hours or so, I was unable to even get out of the recovery chair... This wasn't so bad for me because I slept for most of it... But the poor nurse who had to hold the jug for me every time I had to pee - I reckon it might have been a different story for her...
Poor woman... Anyway, three nights in hospital... I was hooked up to a machine for my apnea and that SUCKED BALLS!!! The day after the op, I was up and about, walking the ward and peeing by myself whenever I wanted to (woooohoooo!!) The doc was really pleased as he thought I'd struggle because of my weight, but I didn't... (Again, lucky?) By day three, I was itching to get out, and out I got!! Self administered injection for (blood clotting) for ten days and the all was good...
The progression of diet from to solids was difficult, but nothing compared to the 4 weeks prior... Once I got home, I struggled a bit with energy/tiredness..
Lugging 560 pounds around on no and just after surgery was always gonna be tricky but I got there... Once I started losing weight, I kinda looked at it as a percentage of what I wanted to lose rather than the actual poundage..
While the big numbers are great (really, who LOSES 230 pounds??) it's more realistic to look at it and be aware that I'm 70% of my way to target.. It's a much better way when you compare yourself to others (and you will, despite how bad an idea it is) and give you an idea of where you're really at... I really like your question re 'losing motivation when you get to a stage where you can lead a fairly normal life".
It's not something I've ever thought about... But I guess the answer is "YES", it's certainly a possibility... I'm at the stage now where I'm finding myself able to exist quite comfortable, especially compared to where I was at...
And I guess that is very possibly a contributing factor to my recent 'funk'... In short, this honestly the best thing I've ever done...
Like many people, my biggest (only) regret is that I didn't do it years ago... Mate, I'm not sure what else you want to know or even if this has been any help to you...
I've not read it back so it may not even make any sense.. If there's ANYTHING you think I might be able to help with, please don't hesitate to contact me, either here or via private message.. Take care... Jason @ I dealt with exactly the sorts of things that you describe, skipping events because of being worried about seating, avoiding flying, etc.
The weight was so debilitating. My job is one where I get a lot of opportunity to travel to some pretty interesting places. Because of my weight, I skipped free trips to Turkey, Sweden, and the Republic of Georgia just in the past couple of years.
I had my surgery in November 2015. Due to my high weight, I had to do the pre-op for 4 weeks. That was hard, but I stuck with it and lost 46 lbs during that period.
Fast forward to now, almost 5 months post-op, I am down 166 lbs. More importantly, my diabetes in full remission and I am off of all medicine. The arthritis in my knees is substantially better. I do a lot of walking and now can get out and enjoy things with my wife.
People don't stare at me anymore when I am out in public. Everything is easier, despite the fact that I still have another 100+ pounds to lose. I have absolutely no regrets. The surgery was scary, but turned out to be easier than I thought it would be. I recovered quickly enough that I was released same day by my surgeon. I was sore, but the pain was never enough that I felt the need to take pain medication. I knew that surgery at my weight came with a lot of risks, but I figured that staying at 518 lbs was likely to be a lot riskier.
The guys on this forum we a real source of inspiration for me when I got cold feet or wondered if this would work for me. Best of luck, just thinking about getting some help is a really big step to take. I wish that I had been smart enough to do it when I was younger. Everyone, I really appreciate your input and thoughts. Means a lot. I'd say "more than you'd ever know," but you've been there, so you definitely know.
I've tried a number of things in earnest over the last few years to lose weight, including seeing a therapist to help me with a binge-eating compulsion, which is now much better, though I haven't lost. (The therapy did result in bringing an end to a period of rapid gaining, and my weight has been relatively stable over the last two years.) A couple years ago, I thought surgery was the easy way out.
Now when I consider the risks of continuing like at my current weight (~490), I think it's the responsible choice. And having started the evaluation process, I know now it's definitely not easy. The program's dietitian has me eating the "liquids only" diet two days a week now.
I'm not sure if I'll need to observe the pre-op diet for two or four weeks prior to surgery, but this is helping me acclimate to the heavy restrictions.
One other area I was thinking about... I know everyone says you'll want loose clothing, especially around your stomach. I plan on wearing gym shorts and/or warm-up pants. While I normally wear pants under my gut, I wear gym shorts and sweats above my belly button as it's the only way they won't constantly fall down.
Do you think this will be an issue? Should I stock up on a few pairs at a larger size so it's less restrictive around my stomach?
And with the bloating, did you wish you had any T-shirts one size larger? I'm 35 and had gastric bypass. Started at 425 with diabetes, high cholesterol/triglycerides, high blood pressure...
and probably apnea though never tested. I just passed 6 months out and have lost around 150 pounds. Best decision I ever made.
Daily life is 10 times easier. My surgeon had no reservations regarding doing surgery. I did the standard 2-week pre-op diet that he prescribes to everyone. It was tough, but I stuck to it. Surgery was one morning, and I was released the next day around noon.
Was off of pain meds within 2 days... and back at work (desk job) by day 6 post-op Weight came off quickly. I've never had any serious complications. Never had issues introducing new foods when my post-op diet allowed for a new phase.
Only time I ever dumped was when I overate a little bit due to eating too fast. Energy is through the roof, I'm off of most of my meds, and will likely be off all after my next checkup. I much better, and apparently hardly snore anymore. I've gotten back to doing things I haven't done in 10+ years, like assisting on the ice with my kids hockey practice. I no longer worry about stuff like "does that restaurant only have booths" or "I hope they don't have folding chairs at my kids school play." I've flown on an airplane again no needing an extender and with the arms down.
I don't sweat the minute the temp rises above 65 deg F (in fact I'm cold all the time.) Sex is much better. I could go on and on. Only negative thus far has been my weight loss has started to slow at 6 months out... but I also am not putting much effort into working out, so once I kick that up, I'm sure it will improve. I started at 415, with an all-time high of 426.
I had the surgery last November, a month before my 61st birthday. Right now I'm at 309. I can't report anything unusual to date; everything has been good with little pain and good progress. I empathize with all of your frustrations: the chairs in restaurants (especially booths), airplane seats, event seats, etc. Next Monday I'll be on my first airplane flight since taking off over 100 lbs.
I'm anxious to see how things go. Obviously, the health improvements have been great. I can walk now without getting winded; climbing stairs is pain-free and easier; I can sit in a stadium seat with someone next to me, etc., etc. But I still have a ways to go, being slightly less than halfway to my goal. Blood pressure is way down, heart rate is down, all my blood numbers look great.
For me, this was the right thing to do. I was worried about the issue with my sweat pants after surgery because I wore them above my belly as well. That did not turn out to be a problem for me because my incisions were spaced such that I was able to wear my pants where I normally wore them. I took a week off from work for surgery and had no problems with regular clothes by the time that I went back to work. i was 520lbs at my heaviest before i started my pre op diet.
I had my surgery on dec30th of 2015. I had my 3 month post op visit this morning and i am down 104lbs. I feel amazing my energy level is through the roof and i can do a lot of things i couldn't do before. I really been working hard every day with exercising and sticking to a strict diet. I do not and will not become the person i used to be. Edited April 5, 2016 by Justin Curtis Guys, this thread is really great. I started this journey at 419 pounds and I'm a week away from my 5th of 6 dietician meetings.
I'm currently at around 385, just from following the pre-surgery diet. I go through so many of the same issues with restaurants, airplanes, folding chairs, etc. And I absolutely always go for aisle seats, just so I can lean to one side. My surgery date is going to be sometime in June, and I'm glad to have found this message board. Lets see at my heaviest recorded weight I was 597lbs when I saw my surgeon for the first time in April of 2014.
I am pretty sure I was even bigger than that, but I never really touched unless I was at the doctors office. The day of the surgery with a pre-surgery diet over that summer and then the two week clear before the surgery I had got all the way down to about 463lbs the morning of the surgery. I had my surgery in Dec of 2014, so about 7 months of getting rid of as much weight as I possibly could before the surgery to try and avoid any complications.
So far I have gotten down to about 255-265lbs. I have been floating around those same 10lbs for a few weeks now. Goal weight for me is to be at 220-230lbs. So yeah the last 30lbs or so pounds I need to lose have been the most challenging to get rid of so far.
With summer coming I had initially wanted to reach that goal by the end of May. I don't know if I will get there, but if I would reach it by Aug 1st. I would be totally stoked. Either way good luck to you. Us over 400lbs people can get great results with this surgery. I have lost more weight in the last year and a half that what I actually weight.
To date that number is 332lbs. 4 Days post-op, Finally home. I miss Tijuana and all the wonderful people, I cried buckets last night cause it felt like my whole happiness dream bubble got deflated.
Incisions are looking great staying hydrated. Going to attempt to make homemade shellfish stock today for sipping (I cannot stand chicken and beef broth) Husband is trying to be supportive but tends to help in the wrong ways.
Im hoping for a more positive attitude soon enough. · •
best medical dating websites 2018 for over 400 lbs - 2018 Ranking of the Best Dating Sites in South Africa


Most Commonly Asked Questions About Senior Dating Sites Looking for that ever elusive love connection? Tired of that same old bar/club scene? Over the past few years, online dating sites have become a hot trend due to their ease of use and accessibility, affording users the opportunity to upload a personal profile and reach out to millions of potential matches from across the globe.
​Not sure where to begin? We have you covered. In addition to our comprehensive reviews, we've compiled answers to some of the most commonly asked questions to help you get started.
1 Does it matter which online dating site you choose? All dating websites cater to different demographics and may not have what you're looking for. Take for example the popular online dating site , a dating service that connects 30+ upper-income, college-educated singles looking for meaningful connections.
Meanwhile, online dating caters to mature singles ages 50 and over looking for love or casual dating. 2 How do online dating site comparison services work? It's fairly simple. Online dating site price comparison services gather, manually or with the use of a web crawler, the most relevant and up to date information on each dating site in question.
Data is then uploaded onto a service's interface and, depending on the online price comparison service in question, users will be able to compare and contrast online dating site membership prices and features in an easy to implement, side by side comparison. 3 What are the best online dating services for senior singles? That's a tricky one. While Elite Singles, , and are seen to be the most quality online dating services, this really depends on what you're looking for. , for example, is a better fit if you're looking for someone with a similar background and college education.
Meanwhile, online dating relies on its behavioral matchmaking engine to connect members looking for long term relationships. The important thing is to assess your needs and have a clear understanding of what you're looking for.
4 What are some examples of additional dating sites available for senior singles? On our site, we hand-pick the best dating sites by reviewing the best features, pricing, and service available. You may have noticed a few well-known names that we didn't include in this table such as FarmersOnly, , , , Tender, It's Just Lunch and DateHookup.
These online dating services also provide a great option for singles looking for love online. , for example, offers free and user-friendly online dating services so that users can quickly review local singles. Our comparison website is made up of our own views and opinions. The scoring is determined at our own discretion and should not be used for accuracy purposes. We are able to provide this service for free thanks to the referral fees we receive from a number of service providers.
These referral fees may affect the rankings and score assigned to specific vendors. Furthermore, though many vendors appear on The Top 10 Sites, this DOES NOT imply endorsement of any kind. The information and vendors which appear on this site is subject to change at any time.
The Most Dramatic Transformations Ever Seen On My 600-lb Life
Best medical dating websites 2018 for over 400 lbs
Rating: 7,8/10

1223

reviews