Suburb of Phoenix, AZ. 6. 8 Best Places to Live in Arizona. Current Resident: Paradise Valley has been called my home for the past 5 years, and it has easily been my favorite neighborhood. There is tons of malls and eateries. If I had to change anything, it would be to incorporate more indoor malls instead of housing. Read 6 Reviews. A. Overall Niche Grade Desert View. Neighborhood in Phoenix, AZ. 9 Best Places to Live in Arizona. A. Overall Niche Grade. A-. Public Schools. 65,155 Population. Add to List.
I'm a military brat that has been all over, but I've been based in Phoenix since 1996. Phoenix is probably about the most "Eh" place I've ever lived. It's not good and it's not bad. It has some serious ups and some annoying downs. I'm just going to vomit this all out, so I apologize in advance for any lack of cohesion.
Jobs are pretty average unless you're in tech, in which case you have a wonderful tech corridor in Scottsdale and Tempe with .Net developers in high high demand. You have two seasons, hot and cold. The summer is short on paper, but long in reality. Spring here is amazing.
Winter is hit and miss. Summer universally sucks. Flagstaff is only a couple hours away which is good if you need to see green things and remember that the world is alive. Flagstaff, the town, kinda sucks though. It's a hipster college mountain town with zero pride in anything. It's a clashing combination of things. This city is VERY clean and very up-to-date which is nice, but that doesn't come without it's burdens.
Construction can ruin your month. On the bright side, we're often used as a test site for new technologies that become public services unless it's telecom-related because Cox Communications owns this city. Culture diversity here is absent. You have white culture and Mexican culture all with Native American / Sonoran peppering. Everyone else is few and far between, miscellaneous. Food is ... ok.
Mexican food is pretty on point, but just about nothing in this city is fresh, so even hi-dollar meals at 4 and 5 star restaurants are lacking compared to other cities that have their own resources. Seafood is available but bland and boring. Same with beef and veggies... and everything else. If you're coming from New York or California, the food here is going to be upsetting.
Fashion is "whatever is comfortable" for the most part. On average, women wear short shorts (or sun dresses), T-shirts, and pony tails. Guys where T's and cargo shorts. Standard of living is fantastic, which is probably why I still live here. You can get a 2200 square foot rental home for 1500/mo on average., and nice apartments starting around 800/mo. Entertainment here is different from most places I've lived. People here are VERY into being outdoors. Hiking is a huge, rock climbing, camping, mud running and marathons in general, and the like.
There's also a lot of art here, strangely. Overall, there's a little of everything, but nothing is particularly strong, in my opinion, especially after having spent time in New York and living in California.
This has to be one of the most non-competitive states I've ever been in. It shows in everything we do. Night life is pretty must constrained to Scottsdale and Tempe, with some other areas that pop up and then die out (e.g. Desert Ridge and Westgate). Tempe (ASU) and Old Town Scottsdale are pretty reliable though. Scottsdale for the club scene, Tempe for the college bar scene as well as anything young and social.
If you're into dive bars, we have plenty of those too. Strangely, it seems that all of these types of bars are segregated to their own "types" of areas. Music scene here is decent, depending what you're into. Lots of local bands. All brands of metal are pretty big here in that respect. Overall, I think just about every type of music has a decent following here which is good.
Live music is usually pretty good. California and Vegas are close enough for weekend getaways. Mexico is right there too; many of my friends make weekends of that as well. Traffic is getting worse and worse with every passing year, especially during popular seasons (spring training, phoenix open, etc...), and like many other places, people do not know how to drive -- a billion times worse when it rains; it's like people have never seen it before.
The worst thing about this city is how spread out it is and SNOWBIRDS; it takes forever to get anywhere; it'll take you over an hour to get across (corner to corner) Phoenix in open traffic. "Phoenix" is a metro... a really big metro. On the bright side, it's impossible to get lost in this city as it is laid out as a perfect grid where all of the "Roads" go east and west and all the "Streets" and "Avenues" go north and south (in the majority of the city). Snowbirds just fill up the city and don't spend much money.
Some claim they do, but the numbers say otherwise. An up side to how spread out it is, if you get bored with one side of town, you can move to a different side of town and they're totally different. There are TONS of new communities popping up around the edges of town, effectively widening the "Phoenix" footprint. The general attitude here covers the full spectrum of left to right wingers.
Most people here are approachable and outwardly friendly, but after many years of trying to place my finger on what it was I didn't like, I discovered it is this: people are surprisingly fake. Lot's of people-pleasers here. You never really know who is a real friend and who is just playing the part. My ex-girlfriend came to the same conclusion (she's from Chicago). Not sure what that's about. Politically, we're in an interesting period of time. This state seems to get more "pink" every 4 years.
We're traditionally red, but the liberal crowd is growing in the south-east corner of the metro pretty quick so some of the political views of the city are starting to reflect that, but as a result, conservatives at the northwest corner are starting re-assert themselves. So ... that results in middle of the road like everything else here. That being said, we have a VERY tough Sheriff here. DUI is a huge deal here. Annnnd... if you missed it, this last dem/rep primary was an utter kangaroo show.
Your vote is useless here. I've noticed that most people that move here get stuck in whatever stage of life they're in. If you're hedonistic, you will always be. If you're poor, you'll stay poor; if you're rich, you'll stay rich; if you're a working professional, you'll stay that way. If you like this place after 3 years, there's a good chance you'll be stuck here forever. • I have lived in Phoenix for over seventeen years and it has changed for both better and worse.
The metropolitan area has grown significantly over that time, especially during the late 90s. The population base has also changed with a large influx from California in recent years vs. the Midwest a generation ago. Some of the pros include: • Reasonable Cost of Living - Compared to LA, Washington, DC, San Francisco, Seattle, NYC and other major metropolitan cities, Phoenix is a bargain.
• Great Restaurants - A variety of ethnic, fusion and other fine dining options. I am not a big fan of chain restaurants! • Moderate Traffic - For the most part, the metropolitan area has moderate traffic.
Yes, there are exceptions, but compared to most metropolitan areas the traffic is relatively light. • Great Place for Hiking/Biking - the City of Phoenix has numerous trails that are dedicated to hiking and biking and shy away from road traffic. These trails are especially useful during the Fall, Winter and Spring.
The summer heat creates its obstacles, but morning hikes can still be rewarding during the hotter months. • Access to Most of the Country - Phoenix Sky Harbor Airport is accessible to most of the country. In addition, it is easy to park and board a plane. Many different airlines service the area, most notably Southwest Airlines and US Airways. • Diversity - A true variety of people from most regions, countries, races, creeds, religions............etc.
Cons.................. • Horrible Schools - The elementary and secondary education is horrible. • Right to Work State - Low pay and few worker rights keeps the economic engine powered in Arizona • Excessive Heat - 110 degree plus days can be the norm during the summer months........need I say more? • Second Rate Media Market - the new is largely imported from LA with some other notable exceptions from the AP wire.
The local newspaper emphasizes the entertainment section which is a second rate rebranding of the LA Times and other LA media.
• Air Pollution - High levels of car exhaust contribute to the air pollution and related ailments. • High Sales Tax - Nearly 10% on purchases and dining • Real Estate Dependent - the economic engine in Phoenix is real estate.
Ground Zero of the real estate crisis. The economy has a hard "boom/bust" history due to chasing the fast buck............... ..............I think I will stay? As a recent transplant from California (this will be our third summer here), I have to say most of the pros & cons I've already read here apply, though some do conflict.
I'm not going to repeat those here for brevity. For clarity, we live in a suburb of Phoenix, northwest from downtown in an area where a lot of snowbirds live, so our collective opinions are much different from SOME native Arizonans.
Your mileage may vary! • Politics — If you're a progressive, the overall vibe -- depending where you live, I imagine -- is that this is the opposite of progressive. It's a Red State, so if you're from a Blue State (like California), you have a change of mindset before you can accept this new reality.
From the signs on restaurants saying that patrons aren't allowed to bring in weapons (imagine that in Los Angeles!) to those with pickup trucks that intentionally blow black smoke on following Prius drivers (like myself) from kits installed in their trucks for this purpose, the environment and the attitudes of some may take you aback a bit.
(If you curious about Rolling Coal, here's a link (it's not an urban myth, trust me): If you're very political, get used to hearing a lot of pontificating about how Obama is ruining the country or how Trump will be the best thing that's ever happened to us in public places or in private gatherings. You will find yourself latching onto fellow libs like a barnacle on a whale's bum :-) • Weather — We chose the Phoenix area for the weather, among other things, as it was closest to California' s weather and much more affordable (and we didn't want to go back east where our family is and deal with snow).
Two-thirds of the year the weather is temperate and better than most areas of the country. Summer's another story. I recommend that anyone who is considering moving here to spend a month during the summer just to experience what it's like with day after day, never-relenting no matter how late it gets, heat.
"Sure, it's a dry heat, but so's an oven," as we're fond of saying. :-) If you thought it gets cold in the desert, you'll learn right away that during the summer, it's frequently over 100 deg F after midnight. Basically, you shelter in place during the summer much like one does back east during the winter.
You have to take a cooler with ice packs with you most of the year if you're planning to do grocery shopping in order to keep your perishables from getting too warm and going bad unless the grocery store is around the corner and you're going straight home, which doesn't apply to us, unfortunately.
The other weather phenomenon worth noting is the monsoon season, characterized by torrential rains (and mosquitoes!), god-awful lightning, dust storms, and extreme winds. For some, this may be exciting as long as you know you're not in the path of the worst part of the storm. Sure, it's fun to watch it from a distance. I for one love thunderstorms. But you ain't seen nothing until you lived here.
If you don't live in the desert, of course, the weather extremes may not as impactful on you. • Affordability — Compared to California, housing prices here are about 1/3 that of similar properties there. Gas is cheaper here, too. Food costs are lower here.
Property taxes are lower. Surprisingly, sales taxes are about the same. Your dollar will certainly go further here. • Foodie Love — If you're a foodie, you'll probably be very happy living here. Obviously, if you love Mexican food, this is the area to be in. Besides the presence of national and local chains, there are plenty of funky independently-run restaurants, many of which are featured on the Food Channel shows like Diners, Drive-ins and Dives.
One thing that is hard to find is a good Chinese restaurant that compares to our favorite places in L.A. • The People — I've read comments about relative friendliness of residents compared to elsewhere as well as differences in road courtesy. Frankly, I've met friendlier people and less friendly people — and drivers here are just as bad / discourteous or as good / courteous as anywhere else I've lived.
The difference from California is at least the traffic on the freeways usually moves here most of the time. There are pros living here that matter a lot, as I've noted, but if you're heat/weather sensitive and/or you're a die-hard liberal who can't feel comfortable unless you're surrounded by like-minded people, consider relocating here very carefully.
Good luck. Update: Since so many people are viewing this answer, I though I'd update it with some information that has less to do with how efficiently the city is run. One of the best things about Phoenix is the thriving arts community and overall support of its many museums and theaters.
It takes getting up a bit early, but you can check out a "Culture Pass" from the library and visit the Phoenix Art Museum, the Arizona Science Center, the Botanical Gardens and more for free. If that's not feasible, many museums offer a free family night or First Friday experience. Another thing I love about Phoenix is the mix of big box store convenience with local, mom-and-pop shop charm. If you have to go to Target or Wal-Mart, you can, but there are plenty of opportunities to support smaller, locally-owned businesses as well.
To be clear, I'm not just talking about downtown and Roosevelt Row, though obviously those are areas worth visiting and enjoying. The neighborhoods in Phoenix almost all boast well-maintained and often gorgeous parks.
There's hiking trails just off major intersections. Of course the city isn't perfect; no city is. It has its challenges. For example, some neighborhoods do not have sidewalks or walkable areas. But all the same, overall, Phoenix is a great city if you can handle the weather.
I would like to add an aspect that most people don't think about, but really does make a difference in one's quality of life. Phoenix is an exceptionally well-run city with a modern infrastructure that, importantly, it maintains. This is in stark contrast to Las Vegas, where I was born and raised.
My husband and I moved to Phoenix in 2010. It's not that I don't have hometown pride, I do, but Phoenix could definitely teach Vegas a thing or two about city management. When road construction is going to occur, signs are placed in advance letting travelers know. It is usally scheduled in such as a way as to have a minimum impact on the city's large commuter population.
And, the roadwork ends when the sign says it will, usually in short order. The highway system is one of beautiful efficiency; often exiting or changing highways is a matter of changing lanes. Though drivers are rather aggressive. The public transportation system allows my husband, who does not drive, to get to work each day on time.
The light rail schedule tandems with the collary bus schedule intelligently and the buses and train cars are consistently clean. Pipes, power lines, etc. are replaced BEFORE they are broken. The early adoption of EV charging stations everywhere allows me to drive my Nissan LEAF worry-free. In contrast to what another comment said, downtown Phoenix is so walkable that when people attend events or work there they usually take the Light Rail in.
The neighborhood Arcadia is also very walkable. As this was an important feature for my husband and I, we have researched this thoroughly. Finally, city documents like council agendas or meeting notices are easily found online. It is fairly easy to get answers to questions regarding trash pickup and the like.
best az dating places to live near phoenix - Nearest airport to Phoenix, Arizona


Phoenix, AZ: Experiencing Huge Growth Phoenix, the capital city of Arizona, experienced rapid growth during the last 40 years of the 20th Century. Today, it is one of the largest metropolitan areas in the country, with well over four million people in the city itself and its surrounding cities like Tempe, Mesa, and Scottsdale. While Phoenix does retain quite a bit of its western heritage, the influx of transplants from all over the country, even the world, has meant an infusion of other cultural traditions to help make it a vibrant and cosmopolitan city.
As one of the fastest growing cities in the country, newcomers will have no trouble meeting people, making friends, and living an active life in Phoenix, Arizona. Demographically, the city is evenly split in its population of males and females. The average age of a Phoenix resident is just below the mid-thirties. The cost of living in Phoenix is slightly below the U.S.
average, especially in the areas of groceries, healthcare, and utilities. Housing prices are slightly higher in Phoenix when compared to the national average, but the price of rentals, for the most part, are below the national average.
For those looking to relocate for job purposes, some of the leading employment sectors in Phoenix are real estate, finance and insurance, retail, healthcare, and government. Several companies have their headquarters in the city, including U-Haul, PetSmart, Best Western, and Honeywell's aerospace division. Because water is always a concern in the desert, it is best to look for a house with native landscaping and no lawn.
Also, make sure any house or apartment you have has air conditioning, as triple digit temperatures are the norm during the summer.
While it may be hot in the summer, Phoenix, Arizona has mild falls and winters. If you want to see snow, your best bet is the northern mountain cities of Prescott and Flagstaff. In a city the size of Phoenix, there is never a lack of things to do or places to go. The city is home to MLB's Arizona Diamondbacks and the NBA's Phoenix Suns. The downtown area has several venues that host concerts and shows year-round. There are also two zoos and two aquariums to see, along with numerous museums like the Heard Museum and the Arizona Science Center, which has many activities and exhibits geared toward children.
If you don't want to drive there, the City operates bus and light rail systems for public transportation.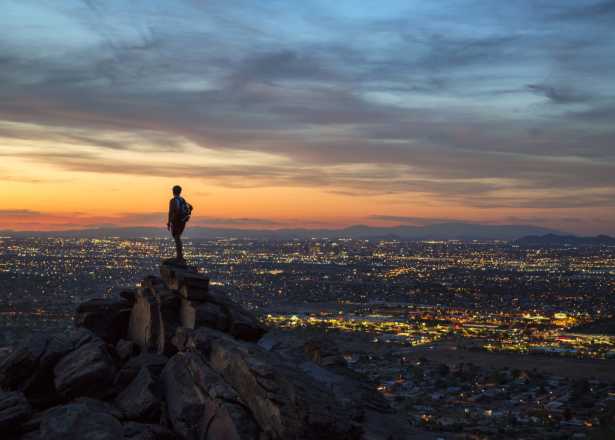 I'm doing research to find how people in different cities do their holiday shopping. I hope you can take less than a minute and answer these few questions about your holiday shopping habits. I'll release the results in a few weeks and you can see how your city compares with others across the United States.
The 10 BEST CITIES to Live in ARIZONA
Best az dating places to live near phoenix
Rating: 7,3/10

1093

reviews