Some of Sydney's best local designers, eateries and booze suppliers will descend on the Surry Hills spot for one day. Yer a Wizard: Christmas Feast. A Harry Potter-themed Christmas feast Take your pick of exhibitions, pop-up bars and free stuff and lock in plans with your mates. Will it be sushi and sake or a blow-out banquet with mates? Sift through Sydney's best restaurants to find the perfect place. No one should have to make any real decisions before brunch. Let's help you find the best coffee and brunch spots near you, stat.
Doesn't matter whether you met at the gym, through friends, on an un-named dancing flame dating app or even accidentally spilling your morning flat white on each other as you jostle out of Toby's on your way to work (okay, maybe that ones saved for the screen) every relationship (be it one night or one year) starts with a first date.
But where are the best first date bars Sydney? Here's a list of places you may want to think about choosing from when you're making that first impression. The Best First Date Bars Sydney #1 Dead Ringer, Surry Hills Apart from making our list of Best New Sydney Bars to Visit in 2016, Dead Ringer is making a name for itself as a bonafide first date destination.
A contemporary yet rustic menu and intimate setting, plus world class cocktails, local wine, beers and ciders make this the ideal spot to impress with ease. GO HERE IF – You want to break the ice in a relaxed environment, but show your date a fine dining experience. #2 The Commons Local Eating House, Surry Hills Located in a heritage farmhouse in the heart of Darlinghurst, The Commons is a place to hide away from the hustle and bustle, enjoy a good ol' drink and some of the best blues and jazz in town.
A menu of seasonally influenced, ingredient-focused cuisine, combining local sensibility with European traditions give Commons its first date appeal. GO HERE IF – You're on a low-key, laidback date with someone who cares about where her food comes from. #3 Low 302, Surry Hills This place has been my go-to locale for first dates in recent times. It's relaxed, has comfy couches, a solid un-pretentious cocktail list and has that darkly lit lounge kind of vibe that is conducive to getting undressed.
If drinks stretch to dinner (you're doing well!) they have rotating list of specials that will not disappoint. GO HERE IF – You're the type of guy who wants to relax and lean back into a cruisey evening with your date. #4 The Winery, Surry Hills Surry Hills' The Winery is a playground for wine lovers and first daters alike. It's an expansive restaurant and bar with plenty of wide open indoor and outdoor spaces to drink the night away on a group date, or get intimate in The Winery's champagne room.
Punchy cooking, brimming with flavour, paired with over 60 kinds of vino means you'll be loving up that Dutch courage and hitting all the right first date notes. GO HERE IF – You and your date are keen to indulge in a bottle of fine wine…or several. #5 Palmer and Co – Sydney City It's hard to go wrong when choosing somewhere Merrivale has had a hand in.
This place is a great option for after work drinks that can stretch late into the night. Get yourself an old fashioned and soak up all the corporate-hipster you can.
GO HERE IF – You want a speakeasy slant to your after work drinks. #6 Eau De Vie, Darlinghurst Impress on your first date at Australia's Best Cocktail bar, Darlinghurst's Eau De Vie. Tucked away behind the tumbleweed streets that was once a buzzing Kings Cross, Eau De Vie is the perfect intimate getaway for you and your main squeeze. Eau De Vie's Whisky Room is perfect for who want to get playful with spirits while the main bar is the heart and soul of Eau De Vie.
GO HERE IF – You want to impress with your extensive spirits knowledge. #7 Love, Tilly De Vine, Darlinghurst As the website states, "Without being pretentious about it, we want this to be a bar where people come to drink well rather than to just get drunk – a place to take a good friend, or a prospective lover." It's also a place to enjoy lots and lots of really good wine in a super intimate setting that takes the awkward out of a first kiss and first date.
GO HERE IF – You want to get real cosy and close. #8 Since I Left You, Sydney City Since I Left You is located in the heart of the Sydney CBD in a heritage-listed storehouse and pairs a welcoming relaxed feel with old-school decadence and charm, just how you'd like to appear to your date.
Keep it simple with gourmet toasties, SILY cheese fondue and classic cocktails plus sweet treats like the Don Juan or Little Grace. GO HERE IF – You and your date are a couple of hipster suits. RELATED:
best date bars sydney - 10 Best Bars In The Sydney CBD For Date Night


Melbourne might be known as the nightlife capital of Australia, but in recent years, Sydney has seriously upped its game. Though you'll still find plenty of smart harborfront establishments—Opera Bar, Bennelong, and the new Barangaroo House are standouts—Sydney's newest wave of bars have added international flavor to the city's once-stodgy drinking scene.
From voodoo-themed tiki bars with moonshine cocktails to low-lit European-style wine bars, there's a bar in Sydney to suit every taste, mood and price point. (Finally.) Tucked in the Lower Concourse level of the Sydney Opera House, the al fresco Opera Bar is the place you'd recommend to anyone visiting Sydney for the first time.
For one, it's got Instagram-worthy views over the Opera House and the Harbor Bridge. A strong cocktail list excels at twists on classic cocktails; the wine list, meanwhile, features mainly Australian bottles as well as high-end Champagnes like Dom Pérignon and Cristal.
(Yes, it's that kind of place.) There are also gorgeous, upscale, tapas-like bar snacks like anchovies with waffles and chicken paté on sourdough. If ever there were a bar to impress your most sophisticated globetrotting friend, Monopole would be it. The sexy European-style wine bar goes all in on atmosphere with a gleaming black bar, slivers of gray metal hanging from the high ceilings, and dark, rich woods. And although the cocktails are decent, what you're really here for is the award-winning wine list: that's 500 rare and boutique bottles from around the globe hand-picked by co-owner (and one of Australia's most renowned sommeliers) Nick Hildebrandt.
The bites coming out of the kitchen are likewise excellent. At Bibo Wine Bar, the beautifully curated wine list, overseen by one of Sydney's best sommeliers, Louella Mathews (formerly of Rockpool Bar & Grill), focuses on the under-appreciated wines of Portugal (head chef Jose Silva is Portuguese). There's a list of cellared wines, which you can try by the glass (starting at about $50 a pop), but you could just as easily spend the night sampling the terrific selection of reasonably priced glasses, all while digging into the knockout Mediterranean fare.
You're never far from the bartender at Tokyo Bird, a small, creatively decorated cocktail den specializing in Japanese whiskies and yakitori. But the tight quarters only add to the cozy vibe.
There's a menu of classic and seasonal cocktails (like the Peach Fizz, a delicious concoction of Kakubin whiskey, grilled peach puree, and sparkling wine), but the real standout is the list of Japanese whiskeys, which can cost as much as $45 a shot depending on the variety. A menu leans heavily on skewering and grilling, and offers options for vegetarians and omnivores alike.
At Charlie Parker's, a dark and snug basement speakeasy, mixologist Toby Marshall uses a chef's approach to cocktail-making, dissecting seasonal produce, fruit, nuts, and local plants much the way a chef or butcher would, then turning the leaves, seeds, flesh, and skins into eclectic, innovative, and surprising—and sometimes strange—combinations.
There are no drink names, just lists of ingredients. That's why the joint is perfect for serious cocktail lovers—and serious cocktail lovers only. This Must Be The Place is best known for its modern twists on classic spritzes—you know, those fizzy, refreshing, low-alcohol cocktails popular on balmy summer evenings. Here, the standout spritzes are the Lotus ($17), made with Aperol, passion fruit, peach, and ginger leaf, and the Belafonte ($15), made with sherry, lemon, prosecco, and basil.
The food menu is tiny: tinned anchovies with hot buttered toast, olives, chips with spiced salt, burrata with salsa. It's flavorful but not filling, so grab dinner elsewhere. Relaxed nautical vibes rule at this chill Enmore watering hole: double-braided ropes hold the lights and liquor shelves in place, nets and oars hang on the walls, and there's an unfussy seafood menu offering shrimp rolls, oyster po' boys, and sardines on toast.
Thick, worn denim-padded stools make for the comfiest bar seats in all of Sydney—so comfy, in fact, that they're continually occupied by locals throwing back beers and shots. The drinks menu here is short and to-the-point: six beers on tap plus six no-nonsense cocktails. Locals and regulars comprise the effortlessly hip crowd at Dead Ringer, an elegant neighborhood bar with raw timber surfaces, big potted ferns, and a casual vibe.
Eight different Australian wines are opened daily and served by the glass; in addition, there's a selection of Aussie-only beers and ciders. Cocktails tend to be on the drier side; the house cocktail, the Dead Ringer Aperitif, (vermouth, pineapple, and tonic) is a standout.
And a drinks-friendly food menu spins organic produce into Australian share plates like roasted free-range chicken with peppers and grilled peaches with radicchio.
Eau de Vie isn't considered Australia's best cocktail bar for nothing. Housed in the back room of the sleek Kirketon boutique hotel, this award-winning Prohibition-style bar is most famous for its inventive and insanely theatrical libations, the type that are shrouded in clouds of eucalyptus and wood smoke, served over frozen river rocks, topped with saffron mousse, chilled with liquid nitrogen, and occasionally set on fire.
There are more than 50 drinks to try, each one more innovative than the last. This spirited voodoo-inspired bar, tucked away in old cobblestone lane, is decorated with jungle-print wallpaper, occult scrawlings on the floor, and animal and human skulls strewn about.
Potent cocktails are the name of the game here, from the Voodoo Brew (bourbon, amaretto, salted caramel, espresso) to the Tiki Bastard (rum, cacao, chocolate bitters, honey water). Beware: there's also an absinthe menu with six different types from around the world. Although there's no cooked food, a skeletal menu of salty snacks like pretzels, cashews, and pork cracklings will help offset the effects of whatever you're drinking. Love Tilly Devine, an intimate alleyway gem in trendy Darlinghurst, is exclusively a wine bar; its wine list boasts more than 300 wines from all over the world.
The wines-by-the-glass list is impressive too, featuring predominantly Australian wines from the nearby Hunter Valley, as well as the Barossa Valley, Heathcote, and Adelaide Hills. For something light, punchy, and perfect for day-drinking, try Aussie producer Momento Mori's Fistful of Flowers (2017), a quirky, organic orange wine.
With Virgin Mary statues, clay walls dotted with Mayan murals and dripping candles, and multicolored fairy lights strung about everywhere, Tio's is a colorful, playful homage to tequila and Mexican culture. Behind the taco-stand-inspired bar, you'll find more than 100 varieties of tequila. The drinks menu is handwritten in cursive on the back of postcards; most mixed drinks (like a concoction of mezcal, lime, and soda) are $10, but you'll definitely want to splurge on a margarita ($17).
You'll also find crowd-pleasing Mexican beers—Modelo, Tecate, Pacifico—and micheladas. The stunning Barangaroo House, designed to look like wide bowls stacked on top of each other, is actually made up of two bars and a restaurant: the House Bar, on the bottom level; restaurant Bea, in the middle; and Smoke, a rooftop cocktail bar. You'll want to visit them all, trust us.
The low-key House Bar has 12 beers on tap, a small, but solid, cocktail list featuring the classics, and lamb on the spit for all-day kebabs. Bea serves up elevated Australian cuisine in a refined pub-like space. At Smoke, there's an impressive wine list with more than 400 wines, a huge champagne list, and more than 50 cocktails.
You have to walk past a wall of old Singer-style sewing machines—get it? Stitch?—and down a set of stairs to get to this basement speakeasy bar. It makes you feel like you're in the know. Downstairs is all dark wood and warm, dim lights, a true drinking den if there ever was one. Drinks are clever and a little indulgent, like desserts in a highball. Like Harry's Bar in Paris, Stitch pairs its whisky drinks with fancy hot dogs (and other bar bites like tacos and curly fries).
The soaring and gorgeous Bennelong Restaurant at the Sydney Opera House has four options for dining and drinking: the restaurant, the bar, the cured and cultured section, and the chef's table in the kitchen. Bennelong Bar is perfect for a pre- or post-theater seasonal cocktail or glass of fancy Champagne. At the restaurant, you'll need a reservation, but for the bar, you can just walk in and enjoy the jaw-dropping views of Sydney Harbor while sipping bubbly and sampling some Sydney rock oysters.
The space is dotted with couples celebrating anniversaries, birthdays and special occasions; after all, this is an elegant place—so be sure to dress your best.
Enter through an unmarked door off a dark lane in Darlinghurst, then descend into a sunken cowboy saloon that's straight out of the Wild Wild West.
The candle-lit bar before you, which is decked out in Western kitsch, complete with taxidermied foxes and a Texan longhorn steer head, is always jam-packed with a rowdy crowd all ready to do one thing: have fun. There are craft cocktails, a solid selection of bourbons and whiskeys, and moonshine, but if you're looking for food, well, you're going to have to settle on peanuts—literally.
Inside this dimly lit, Caribbean-inspired rum bar, you'll find rattan chairs, lush banana palms, and plush-red Chesterfield booths—a veritable vintage hideaway in the heart of Sydney. The Lobo Plantation attracts a well-heeled crowd of cocktail lovers who flock here for—what else?!—its signature liquor. There's are hundreds of rums on offer, which you can drink straight or in a number of creative cocktails.
Don't leave without ordering the Old Grogram, Lobo's signature drink; it's made with spiced rum, lemon, sugar, and vermouth. Then it's set on fire. If you've ever longed for the perfect neighborhood bar, you'll wish you lived a little closer to Jangling Jack's, a delightfully named subterranean drinking den hidden behind an awkward, narrow entrance. The decor is cool and eclectic, with bold, mismatched rugs, vintage concert posters, and antique Victorian lamps; the cocktails are terrifically executed renditions of the classics; and a kitchen turns out stick-to-your-ribs comfort fare like fried chicken with honey butter and ice cream sundaes with bourbon butterscotch.
With multi-colored marble pillars, soaring archways, coffered ceilings, and French realist-style paintings, this palatial Victorian-style bar (built in 1893!) leaves quite a first impression. An old-school drinks menu is similarly terrific, featuring good Champagne, a handful of well-curated local wines, and Prohibition-inspired cocktails (like the Ramos Gin Fizz and a potent Absinthe Frappe, made of absinthe, anise, sugar, and sparkling wine).
Not into cocktails? Try an Australian whiskey flight for $45 a pop. The Baxter Inn has a seriously impressive range of whiskeys—around 630 different types on offer, including rare bottlings and unusual releases. So while you're bound to encounter an eclectic crowd, you can bet that most people holed up in this dark, candle-lit, speakeasy-style bar share a love of the brown stuff.
There are so many varieties lining the tall, backlit wall of whiskeys, in fact, that bartenders access them by scrolling ladders, library-style. The background music—smooth jazz or the blues, most likely—adds to the sophisticated feel. This intimate and sophisticated gin bar is hidden behind a fully functioning barbershop, which probably explains its retro aesthetic—clean white tiles, funky old stools.
Industrial details like concrete floors and wood-beamed ceilings round out the space, which fills up with a crowd of regulars—mostly guys—on weekdays after work. There are more than 80 different gins on the menu, including a fine inventory of rare Genevers from the House of Bols in Holland.
Can't handle straight liquor? Sample from the formidable menu of gin cocktails. Our Sites • • • • • • • • • • • • • • • • • • • • • • © 2018 Condé Nast. All rights reserved. Use of and/or registration on any portion of this site constitutes acceptance of our (updated 5/25/18) and (updated 5/25/18). The material on this site may not be reproduced, distributed, transmitted, cached or otherwise used, except with the prior written permission of Condé Nast.
CNT Collection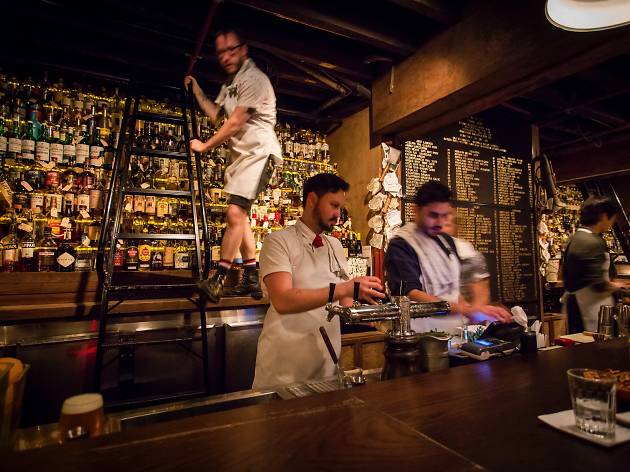 CUISINE • Afghan • African • American • Argentinean • Armenian • Asian Fusion • BBQ • Bakery • Bangladeshi • Brazilian • Buffet • Burger • Cafe • Canadian • Caribbean • Cheese • Chilean • Chinese • Chocolaterie • Contemporary New Zealand • Cuban • Dessert • Dutch • Eastern European • Egyptian • English • Ethiopian • European • Filipino • French • Fried Chicken • Frozen Yoghurt • Gastropub • Gelato • German • Greek • Health • High Tea • Indian • Indonesian • Israeli • Italian • Japanese • Korean • Laotian • Latin American • Lebanese • Malaysian • Mediterranean • Mexican • Middle Eastern • Modern Australian • Moroccan • Nepalese • Nordic • Organic • Pacific • Paleo • Patisserie • Peruvian • Pizza • Portuguese • Pub Food • Ramen • Sandwiches • Seafood • South American • Spanish • Specialty Coffee • Specialty Tea • Sri Lankan • Steak • Street Food • Swedish • Taiwanese • Takeaways • Tapas • Thai • Tibetan • Turkish • Vegan • Vegetarian • Vietnamese • Yum Cha FEATURE • 24 Hours • After Work • Banquet Menu • Bar Food • Bar Scene • Beachfront • Beer Garden • Book Online • Bottle Shop • Breakfast • Brewery • Brunch • Business Crowd • Business Lunch • Byo • Cafe • Cocktail Bar • CP Pick • Dance Floor • Degustation • Delivery • Dine At The Bar • Dive Bar • Dj • Dog-friendly • Games • Gastropub • Gay Bar • Good For Dates • Good For Families • Good For Groups • Grocer • Harbourside • Hotel Bar • Jazz Bar • Karaoke • Late Night • Late Night Dining • Latin • Live Music • Lounge Bar • Lunch • Nightclub • Notable Chef • Notable Wine List • Out Of Town • Outdoor Dining • Outdoor Seating • Pet-friendly • Private Party Space • Private Room • Pub • Quiet • Reservations Recommended • Riverside • Romantic • Rooftop • Sharing Menu • Singles Scene • Small Bar • Smoking Area • Special Occasion • Spirit Bar • Sports Bar • Take Away • Takes Reservations • Tapas Bar • Views • Wheelchair Accessible • Wi-fi • Wine Bar CUISINE • African • American • Asian Fusion • BBQ • Bakery • Buffet • Burger • Cafe • Caribbean • Cheese • Chinese • Chocolaterie • Contemporary New Zealand • Cuban • Dessert • Dutch • Eastern European • Egyptian • English • European • French • Fried Chicken • Frozen Yoghurt • Gastropub • Gelato • German • Greek • Health • High Tea • Indian • Indonesian • Israeli • Italian • Japanese • Korean • Latin American • Lebanese • Malaysian • Mediterranean • Mexican • Middle Eastern • Modern Australian • Moroccan • Nepalese • Nordic • Organic • Pacific • Paleo • Patisserie • Pizza • Pub Food • Ramen • Sandwiches • Seafood • South American • Spanish • Specialty Coffee • Specialty Tea • Sri Lankan • Steak • Street Food • Swedish • Taiwanese • Takeaways • Tapas • Thai • Turkish • Vegan • Vegetarian • Vietnamese • Yum Cha FEATURE • 24 Hours • After Work • Banquet Menu • Bar Food • Bar Scene • Beachfront • Beer Garden • Book Online • Bottle Shop • Breakfast • Brewery • Brunch • Business Crowd • Business Lunch • Byo • Cafe • Cocktail Bar • CP Pick • Degustation • Delivery • Dine At The Bar • Dive Bar • Dj • Dog-friendly • Games • Gastropub • Good For Dates • Good For Families • Good For Groups • Grocer • Harbourside • Late Night • Late Night Dining • Live Music • Lounge Bar • Lunch • Nightclub • Notable Chef • Notable Wine List • Out Of Town • Outdoor Dining • Outdoor Seating • Pet-friendly • Private Party Space • Private Room • Pub • Quiet • Reservations Recommended • Riverside • Romantic • Rooftop • Sharing Menu • Singles Scene • Small Bar • Smoking Area • Special Occasion • Spirit Bar • Take Away • Takes Reservations • Tapas Bar • Views • Wheelchair Accessible • Wi-fi • Wine Bar FEATURE • 24 Hours • After Work • Banquet Menu • Bar Food • Bar Scene • Beachfront • Beer Garden • Book Online • Bottle Shop • Breakfast • Brewery • Brunch • Business Crowd • Business Lunch • Byo • Cafe • Cocktail Bar • CP Pick • Dance Floor • Degustation • Delivery • Dine At The Bar • Dive Bar • Dj • Dog-friendly • Games • Gastropub • Gay Bar • Good For Dates • Good For Families • Good For Groups • Grocer • Harbourside • Hotel Bar • Jazz Bar • Karaoke • Late Night • Late Night Dining • Latin • Live Music • Lounge Bar • Lunch • Nightclub • Notable Chef • Notable Wine List • Out Of Town • Outdoor Dining • Outdoor Seating • Pet-friendly • Private Party Space • Private Room • Pub • Quiet • Reservations Recommended • Riverside • Romantic • Rooftop • Sharing Menu • Singles Scene • Small Bar • Smoking Area • Special Occasion • Spirit Bar • Sports Bar • Take Away • Takes Reservations • Tapas Bar • Views • Wheelchair Accessible • Wi-fi • Wine Bar FEATURE • After Work • Banquet Menu • Bar Food • Bar Scene • Beachfront • Beer Garden • Book Online • Bottle Shop • Breakfast • Brewery • Brunch • Business Crowd • Business Lunch • Byo • Cafe • Cocktail Bar • CP Pick • Dance Floor • Delivery • Dine At The Bar • Dive Bar • Dj • Dog-friendly • Games • Gastropub • Gay Bar • Good For Dates • Good For Families • Good For Groups • Harbourside • Jazz Bar • Late Night • Late Night Dining • Latin • Live Music • Lounge Bar • Lunch • Nightclub • Notable Chef • Notable Wine List • Out Of Town • Outdoor Dining • Outdoor Seating • Pet-friendly • Private Party Space • Private Room • Pub • Quiet • Reservations Recommended • Riverside • Romantic • Rooftop • Sharing Menu • Singles Scene • Small Bar • Smoking Area • Special Occasion • Spirit Bar • Sports Bar • Take Away • Takes Reservations • Tapas Bar • Views • Wheelchair Accessible • Wi-fi • Wine Bar PRODUCT • Accessories • Activities • Antiques • Apothecary • Art • Beauty • Beer • Bikes • Books • Bread • Bric-a-Brac • Cakes • Ceramics • Cheese • Chocolate • Denim • Electronics • Exercise • Eyewear • Fishmonger • Flowers • Food • Footwear • Furniture • Gardening • Gifts • Grocer • Grooming • Hair • Health • Homewares • Ice Cream • Jewellery • Lingerie • Magazines • Meat • Menswear • Opals • Records • Shoes • Sportswear • Stationery • Streetwear • Suits • Sushi • Swimwear • Tattoo • Tea And Coffee • Toys • Wine • Womenswear • Yoga
Small Bars of Sydney - Foraged Episode 4
Best date bars sydney
Rating: 7,5/10

1341

reviews