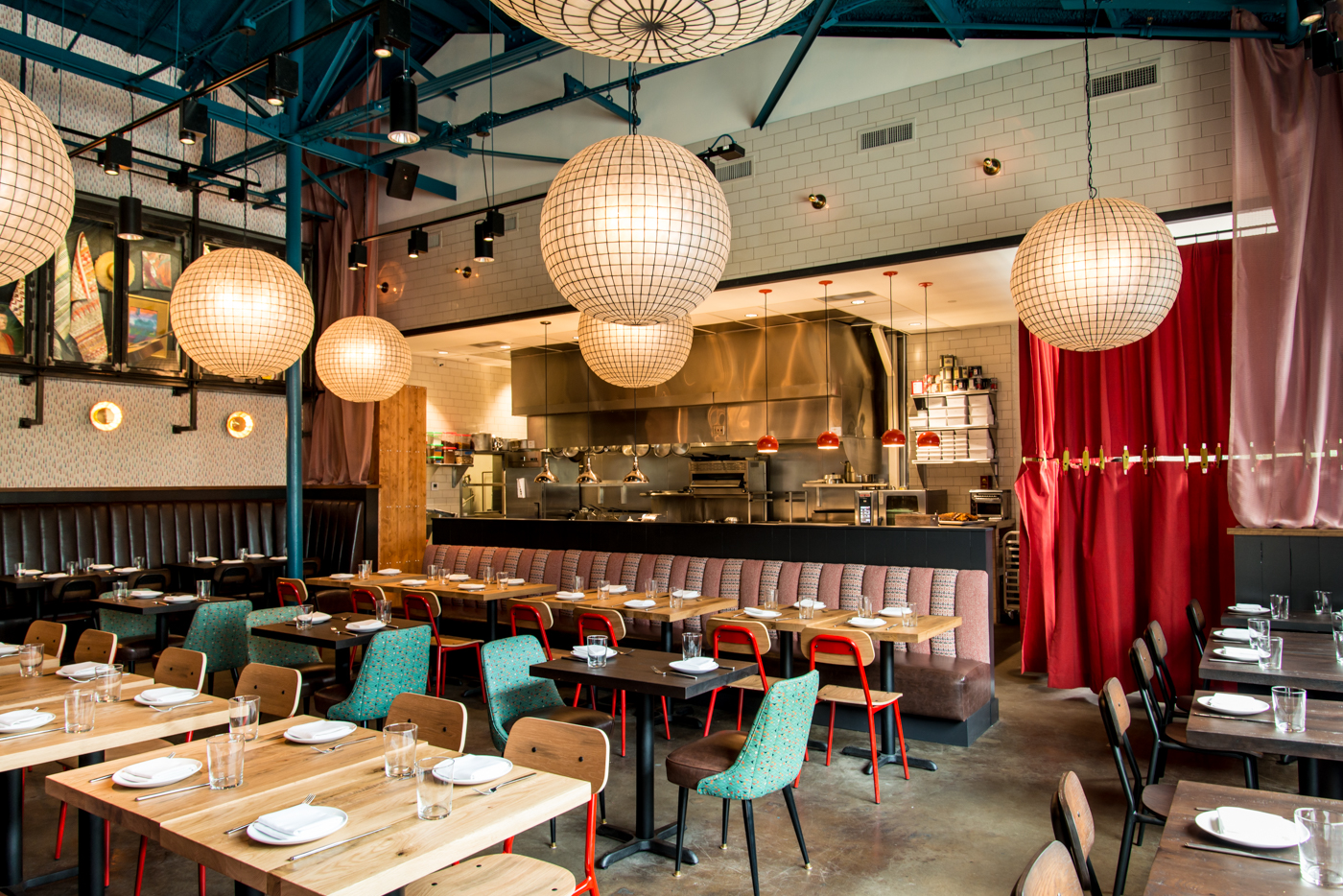 This newcomer to Atlanta's Indian restaurant scene was a finalist in the James Beard awards for best new restaurant in 2013, so you know there is something that makes it good. This restaurant focuses on the flavors of the southwestern region of the country, making it somewhat unique in Atlanta. It is an upscale, lovely experience, and you will appreciate the care in the wine selection as well as the food. It's also a bit pricier than your average Indian restaurant, but it's great for a special occasion. Bhojanic 3400 Around Lenox Road, Suite 201 Atlanta, GA 30326 (404) 841-8472 www.bhojanic.co .
Discover Downtown Atlanta natives are hiding some secrets. Their beloved pimiento cheese, the pâté of the South, was invented in New York.[1] Can anyone prove that the first batch of fried green tomatoes was whipped up in Atlanta?[2] There are far more peanuts grown in Georgia than peaches[3], and frying was a West African innovation rather than a Southern one.[2] Traditional favorites still satisfy, but the Atlanta dining scene is enjoying more global influence than ever before.
Buford Highway, which runs through the center of town, boasts 20 separate international communities.[4] As a result, you're just as likely to find snow crab chawanmushi or mughlai paratha on the menu as shrimp and grits or fatback-fried catfish. Whatever you sink your teeth into, it will be served up with homey Southern hospitality. Dining around Downtown Hot Spots • Landmark • • • • • • Shopping area • • • • • • Train Station • • • • • • Stadium or Arena • • • • • • Monument • • Museum • • • • • • Park • • • • • • Hotel / Lodging • • • • • • Nearby Cities • • • • •
best indian date atlanta restaurants in downtown - Best Places to Eat in Downtown Atlanta


Though what restaurants considered "best" will depend on one's tastes and desired price range, some of the highest-rated restaurants in Atlanta, Georgia include Bacchanalia, Restaurant Eugene, Cakes & Ale, Tomo, Sotto Sotto, the Heirloom Market BBQ, Bone's, Miller Union, Nam Phuong, and The Optimist. Each of these eateries has a website with menu and pricing information. Yes, MARTA (Metropolitan Atlanta Rapid TransitAuthority) is the easiest and most cost-efficient way to get fromthe Airport to downtown.
Marta is a train line that travels throughcity and out to the surrounding metro areas. The airport is the southern-most stop on the line and runs straightthrough … the airport. You can walk out of baggage claim, directlyinto the station.
From there, you can travel north to severaldifferent points around the city. The train lines form a cross that intersectsin the heart of downtown. The "Five Points" or the "PeachtreeCenter" stations are situated in the heart of downtown. They areeasily accessible to some of Atlanta's best attraction such as theGeorgia Aquarium and the World of Coke.
The "green" and "blue" lines run East and West through Atlantaconsisting of stops out to I-285. The "red" and "gold" lines runNorth/South and also have stops that travel up to the metro areaand surrounding suburbs.
Atlanta is not known for their efficiencies inpublic transportation, and MARTA is the only real form of masstransit. The stations only intersect through certain areas of town,so a cab or bus may be needed to reach your destination. Some hotels located in downtown of Atlanta are the Sheraton Atlanta Downtown, Hilton Atlanta, Omni Hotel at Cnn Center, Hyatt Regency Atlanta Downtown and The Ritz Carlton Atlanta.
A way to find hotels that are located in downtown of Atlanta it to go to the Expedia website. They have a lot of differ … ent choices to choose from.
Indian food doesn't exactly have the sexiest rep among diners. For decades, the cuisine has been relegated to strip malls and known for its cream-laden dishes like chicken tikka masala and saag paneer. Indian food is going through a renaissance though, and throughout the city we're seeing restaurants pop up that put a different spin on the South Asian cuisine. The Indian food we're most familiar with is, surprisingly, not bastardized the way other international cuisines are.
The problem is that the Indian food we know is focused on just one region of the expansive country: the Northern region. And while Northern Indian cuisine is delicious and has its place in our bellies, it's only one side of the story. India is the seventh largest country in the world, comprised of a population of over 1.2 billion people. The country is diverse, drawing influences from the bordering countries of China, Nepal and Pakistan, explains Meherwan Irani, founder of Chai Pani and Botiwalla (and a twice James Beard Award nominated chef), who is from Central India.
Irani didn't grow up with Northern Indian dishes; instead, he was raised eating family-style with thalis (meals made up of several small dishes meant to be shared), and "going out" meant grabbing a bite of street food.
Dining in a restaurant was a rare occurrence. These roots are what drove him to open up his revolutionary restaurants that are highly focused on Indian street food.
Irani opened in Asheville in 2009, and following its immediate success, brought the concept to Decatur in 2013. In 2016, he opened in Ponce City Market (PCM). His goal was to make Indian food approachable, but not dumbed down.
To do this, he uses local ingredients with Indian techniques. This is epitomized in one of Chai Pani's most popular dishes, kale pakora. Kale leaves get dunked in copious amounts of chickpea batter and spices and fried to a crisp. Both of his restaurants have allowed him to turn a playful eye towards Indian cuisine. At Chai Pani he focuses on chaat (roadside snacks), thalis and creative cocktails.
Having a restaurant in PCM has allowed him to get even closer to a true street food experience. The décor is bright and infuses humor (see the list of house rules that includes no sleeping in the toilet and no discussing gambling), and its location off the BeltLine is perfect for grab-and-go dishes. Irani says, "We have a chance to blur the line, and more fully realize the atmosphere." Irani is excited to see the evolution of Indian cuisine in Atlanta, which he's dubbed "Indian Food 2.0".
This new generation of Indian chefs is having fun and elevating the experience using better techniques, says Irani, highlighting Asha Gomez of Spice to Table as a prime example. Keep reading to see where you can partake in delicious Indian cuisine around Atlanta. and 406 W. Ponce De Leon Ave. Decatur, GA 30030 Chai Pani serves up fun takes on Indian snacks and family style thalis.
Irani brings his vision of approachable Indian food with Southern flair to life with kale pakoras and Bombay Chili Cheese fries – masala spiced fries loaded up with lamb meat, spicy sauce and tomato chutney. The restaurant is located in downtown Decatur, but happens to have parking aplenty. Botiwalla can be found in Ponce City Market and offers Irani's take on Indian street food.
Grab a chicken tikka roll, and don't leave without trying the lamb burger and Tandoori Fried Chicken. Quell the spicy burn with a mango lassi or tamarind cola.
Spice to Table 659 Auburn Ave NE #506, Atlanta, GA 30312 Asha Gomez first made waves with her Westside gem Cardamom Hill. It closed in 2014, but she was back in action with the opening of Spice to Table near Krog Street Market within the same year. The menu is simple, with an emphasis on Indian sweet and savory pastries. Standouts include the carrot cake with whole peppercorns and other warming spices, and the curry chicken samosa pocket.
Heartier items still fall into the grab-and-go category in the form of khati rolls. Delicious filling options include roasted eggplant, pork vindaloo and green masala goat. Tabla 77 12th St NE Atlanta, GA 30309 Tabla defies the Indian strip-mall stereotype with its trendy vibe set in the heart of Midtown.
It's dark and sexy, perfect for a date night. There are classics on the menu, like samosas, but Tabla excels with its modern takes. For lunch you can find "deconstructed tacos" with tempting fillings like chicken malai, tandoori roasted chicken in a white creamy marinade, and paneer tikka, Indian cheese marinated in yogurt topped with fresh mint and green chile. Dinner presents more exciting options in the form of tandoori octopus, roasted in mustard oil and a cream marinade and taste bud tingling lassoni cauliflower, crispy cauliflower in a chili garlic sauce.
Treat yourself at the end of the meal to one of their desserts, like the kulfi – creamy Indian ice cream on a stick! 1685 Church St #110, Decatur, GA 30033 Tava bills itself as a "modern Indian bistro," which seems fair when you consider their small plate and sandwich offerings. Co-owner Farhan Momin and his family were in Atlanta for 30 years when they realized there was a void in fresh Indian food options.
Momin's father is a butcher and hand-selects the animals that are used at the restaurant, making for a true farm-to-table experience. There are curries, but also influences from Momin's southern upbringing, as seen in the chora chaat – crispy black eyed peas tossed in cilantro, tamarind sauce and onions.
Other "fusion" dishes include Bihari chicken wings, okra tossed in masala and the fish 65 sandwich, a spicy fried filet of fish topped with a cooling salad.
Refresh the palate with one of their lassis, like the rose cardamom or mango. Naan Stop Various Locations Naan Stop began as a food truck in Los Angeles with the Idani brothers hoping to make Indian food approachable, while still maintaining authentic flavors.
They're originally from the south, though, so their roots brought them back home and they opened their first brick and mortar store in downtown Atlanta, followed by a Buckhead location. Naan Stop is a fast casual concept (think Chipotle meets Indian food), where you first pick a "base" – rice, naan or salad – then select a protein--chicken tikka masala, lentils or paneer—then top it off with your choice of chutneys.
They also have delicious sides, like masala fries and their samosas. 2945 N Druid Hills Rd, Atlanta, GA 30329 Masti means "fun" in Hindu, and Masti in Toco Hills delivers plenty of it with their vibrant wall colors and playful street food menu. Go for clever treats like the kebab dog, a kebab hot dog topped off with relished vegetables, bell peppers and special sauce; momo, or steamed dumplings stuffed with chicken or veggies; and the deconstructed samosa chat, chickpea curry topped with onions and three savory samosas.
There are also full-size entrees if your appetite allows, like the masala pasta, the Amritsari fish and chips with tilapia tossed in chickpea flour, and the Mumbai quesadilla stuffed with butter chicken.
Hit the refresh button with one of their tipples – we recommend the aam ka paana with spiced green mango juice and coconut rum.
BEST FREE DATING APPS in PAKISTAN / INDIA 2019
Best indian date atlanta restaurants in downtown
Rating: 9,9/10

674

reviews