1. Good questions to ask a guy on a first date. In this website we talk a lot about how crucial a first date is, for a future relationship. You should be ready for this day and get rid of your shyness. Talking face to face with the guy you like, will never be easy. But don't worry about it Usually on a first date, there will be exchanging questions between both parties in order to know each other well. At first you can ask some general questions about his hobbies, family and something light about him. Remember not to ask something that is too serious and heavy if you don't want to scare him away Below are some ideas of questions to ask him. 1. Do you enjoy meeting new people? 2. How do you feel to be in the middle of a crowd?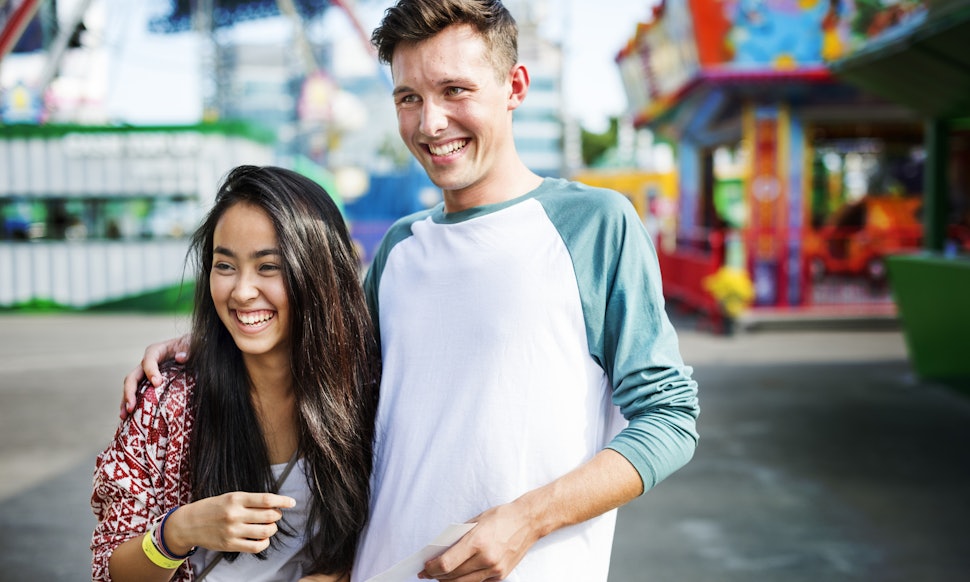 In this website we talk a lot about how crucial a first date is, for a future relationship. You should be ready for this day and get rid of your shyness. Talking face to face with the guy you like, will never be easy. But don't worry about it. Knowing what to ask and what to answer is the key to a successful first date and to unveil his personality.
You can practice about it at home first. Think of the topics you want to talk about, in order to understand more about him. Don't forget that you should also be ready to answer these questions asked by your partner. Usually on a first date, there will be exchanging questions between both parties in order to know each other well. At first you can ask some general questions about his hobbies, family and something light about him.
Remember not to ask something that is too serious and heavy if you don't want to scare him away. Just consider these simple questions as an "appetizer" to melt the tense between you two. So let's check them out. 1. How will you describe a healthy relationship? 2. What do you think happiness is?
3. What did you think of me the first time you saw me? 4. How many brothers and sisters do you have? 5. Do you still live with your parents? 6. How much influence does your family bring to your life? 7. Do you have a pet? 8. What is your favorite color? 9. What do your parents do? 10. How do you see friendship between male and female? 11. How do you see love? Is it a priority in your life? 12. What is your favorite movie, TV show or book and why? 13. What kind of music do you listen to?
14. Have you been to a concert? 15. What do you for living? Do you like your job? 16. How many hours do you work a week? 17. How do you refresh yourself after being tired from work? 18. Are you happy with your life? 19. Which one do you prefer, a good restaurant or a night club?
Why? 20. What are your hobbies and how often do you do them? 3. Questions about his past After asking something light, you can later ask some questions related to his past. His past says a lot about his personality and his habits. Don't ask something that is too private.
Limit yourself before you make him get annoyed by your questions. The most important thing is NEVER judge him for his past. Try the questions below and you will manage to retrieve many interesting things. 1. What was the happiest moment in your life? 2. What was the most embarrassing moment in your life? 3. What is the best place you've ever been for holidays and what did you like most about it? 4.What is the thing that you regret doing the most?
If you had a chance to change it, would you do it? 5. Why did you break up with your ex-girlfriend? 6. What mistakes did you and your ex do in the past, that you don't want them to happen again in your next relationship? 7. Have you ever been betrayed by your best friend? 8. Has somebody ever disappointed you so much that you find it difficult to accept till now? 9. How was life when you were a child? 10. Where did you live as a child?
11. How did you see love and marriage in the past? 12. Have you ever had any troubles with your colleagues or your boss? How did you solve it? 13. Why did you choose to work as……? 14. Before working here, where did you work? Why did you move? 15. How was your school life? 16. What kind of club did you join during your school days? 17. Have you ever had a crush on your teacher as a child?
18. What was your best and worst experience during your school days? 19. Were there any traumatic experiences in the past? How did you deal with it? 20. Have you ever been overseas before?
4. Questions about his personality Step by step you can now ask some questions in order to know more about his personality. Although it's not possible to get complete understanding about what kind of person he is, at least you can know whether there is a possibility for the relationship to continue and grow. You surely don't want to fall for a selfish and irresponsible guy right?
But please remember to be careful with your questions and don't push him too much for an answer, or else they will bring you the opposite results. Below are some ideas of questions to ask him. 1. Do you enjoy meeting new people? 2. How do you feel to be in the middle of a crowd? 3. Which do you prefer, buying new things or repairing the old ones? 4. How do you take responsibility for your mistakes? 5. Do you always consider other people's feelings before deciding something?
6. Will you describe yourself as an open minded person? 7. How do you react to changes? 8. Do you think that a mistake gets you closer to success? 9. What will you do to avoid doing the same mistakes? 10. How do you feel if there is someone criticizing you? 11. What is your reaction when you can't get what you want?
12. Do you talk about your problems or do you keep it to yourself? 13. Are there any moments that you prefer telling an easy lie to the hard truth? 14. In situations that you and your partner feel disconnected, what will you do to get back together? 15. Do you trust people easily and are you trustworthy?
16. Can simple things bring you joy? 17. What can make you smile and bring you happiness? 18. How would you react if a friend of yours told you that your girlfriend was cheating on you? 19. Have you ever been jealous to your ex-girlfriend? 20. What makes you think that someone deserves a help? It may sound a bit weird to ask questions related to a guy's future on a first date! It's because future is not something that you can make sure of. It's true, but it's something that you can predict by looking at the actions and planning done in the present time.
Asking questions about his future plans doesn't mean that you are already sure to get married to him. The point is that you can have a clear view of your possible relationship. Why wasting time on a guy that doesn't even care about his future?
So let's see what kind of future related questions you can ask him: 1. How do you see yourself 10 years from now? 2. What is your next goal for the near future? 3. Have you done every single step that is needed to achieve your goal in the near future? 4. What is your opinion about family and kids? Can you imagine yourself as a parent?
5. What is the next place you want and plan to travel? 6. What is the next product you plan to buy? 7. What's something you've always wanted to try and are planning to try in the future? 8. What would you do to grant your wife and kids happiness? 9. What is your long term goal? 10. How important is a marriage for you? 11. How do you see your job now? Are you satisfied with it? 12. Do you have something that you want to accomplish?
13. Will you allow your wife to work? 14. How do you want your kids to be raised? 15. What is your next plan for your business? 16. What criteria will you look from a girl to make her a good suitor for you?
17. How will you pay gratitude to your parents that have raised you? 18. Have you ever considered joining your siblings for a business? 19. What is your dream wedding like?
20. Which one is your priority after getting married, your family or your job? In conclusion, going on a first date can give you insight about the guy you are dating through the questions you ask. But you need to keep in mind that the questions we give you here are just guidance so that you can consider whether or not to continue the relationship. Good luck with your first date then.
best married dating ideas first date questions ask guy - Dating Questions & Answers


So you planned an . Now, you just have to figure out what to talk about. Nothing gets the sparks flying on a first date like witty, original questions. Talking about the weather isn't going to score you any points with a potential romantic partner, so if you're looking to get her laughing you're going to have to have to bring your A game. A good place to start is asking about her job. "People love knowing that you take their work and ambitions seriously," says psychiatrist Carole Lieberman, M.D.
Another idea: Fire off whimsical questions, like what she wanted to be when she grew up. If that makes her laugh and open up, keep the offbeat questions coming. Unexpected topics can provide more insight into her personality—and opportunities for flirtation—than the typical get-to-know-you chatter.
For more ideas, we asked women for the best questions they've ever been asked—or what they wish a guy would ask—on a date.
We also combed Reddit—home to many interesting relationship stories—for advice on first date conversation starters. Here are some great questions and conversation starters to pull out on your romantic rendezvous. View Gallery 22 Photos "Someone once asked me what my Shark Tank idea would be. (It's Chipotle, but for Eggs Benedict. I'd call it Arnold.) It was great because it's unexpected. It's a fun way to get insight into how someone's mind works and what they like to think about, and it opens up a conversation rather than ending it." —Alana R.
"The most memorable [question] was when my boyfriend asked me which weird Tinder pickup lines people were using on me, so we both started sharing. It helped break the ice, and then I realized how funny he was. Then when he started asking about my siblings, I knew he was there for more than just a first date." —Sarah L. "This might sound a little silly, but I would want someone to ask me about my name. Not in the 'Oh, your name sounds exotic' way, but sincerely inquiring about the meaning of my name, its origins, and the importance of the name within the family.
Maybe it's too much for a first date, but it holds a lot of significance for me and would show that someone is actually interested—and curious—about who I am." —Saba A. "I really liked when one guy asked me for the latest concert I'd been to. It's much better than 'What kind of music do you like?' because that's just so generic. . . . But the concert question is specific, and then you go from there.
You can get into a good story when you have a great opening like that." —Suzee S. "I would love if a guy asked me what my all-time favorite book was. It's a dorky but easy question that shows he is literary! A guy that reads—whether it's WWII non-fiction or Sci-Fi—shows that he likes to continually learn and expand his depth of knowledge. That's sexy. Plus, I can launch into a conversation about To Kill A Mockingbird any time, so it's a great conversation starter!" —Sara A.
"I had a date ask me in a very serious tone, 'So how are you prepared for the Zombie Apocalypse?' And when I had an answer (of course I'm prepared!) he actually laughed and said he wasn't prepared for a genuine response. That led to a very long and fascinating conversation about all skills we feel are necessary to survive in a dystopian society.
One of my favorite dates, actually." — "One time, someone asked me why I considered myself to be an introvert. I liked that he asked that because it showed that he was really listening to me and trying to understand me as a person.
I had been talking about being nervous about networking because I'm introverted, and then I told a story, but he went back to the introvert comment. After that, I knew he was thinking about what I had actually said instead of just waiting to tell his own anecdote." —Jules C. "What's really impressive is when guys ask a niche question.
I'm a local government reporter, so I do a lot of stories about boring and jargon-y policy things. I remember one guy asked me specific questions about stormwater management, which I never get to talk about because no one cares.
Any guy that cares about the Chesapeake Bay Cleanup Effort is gold." —Cindy H. Additional reporting by Sarah Jacobsson Purewal
Photo: Ben Glass/Warner Bros No secret here—dating can be a real pain. Nothing's more nerve-wracking than a first date, especially with someone you hardly know. And while, sure, dates are meant to be a precursor to an actual relationship, first dates are also mini-interviews disguised as social outings, whether we like to admit it or not. That's why figuring out what to talk about ahead of time with a list of good first date questions and conversation starters is so important. A foolproof way to ensure that conversation will always be flowing is to simply ask your date things, although—given the fact that we never know how comfortable others are with casual conversation—that might be easier said than done.
The trick to successfully vetting a prospect on a first date, while simultaneously keeping the energy , is knowing what questions to ask and how to ask them. For example, work, his or her family, hobbies, pop culture, and favorite music are all surefire bets.
Four things never to ask her or him about on a first date? Politics, religion, exes, and salary. Too serious, too fast! If you're savvy, you'll realize that certain questions–even the most basic ones—have the ability to tell a lot about a person. Here, we've divided your hypothetical first date into five phases and suggested a series of questions to ask your date during each.
MORE: Phase 1: The first 10 minutes These questions are key primers, the ones to ask after you've said hello, and settled in somewhere comfortable. Sure, they're kind of snoozy, but they'll set the tone for your date, and give you immediate things to talk about: " Oh, you went to Notre Dame? So did my cousin!" 1. What do you do, and how long have you been doing it?
2. Where are you originally from? 3. Where did you go to school? 4. What was your major? 5. Where exactly do you live in [insert your city or town here]? Getty Images Phase 2: After the first drink arrives Now that you've gotten the primers out of the way, it's time to get a tad more specific.
Questions over the first drink should be an equal mix of inquisitive and casual, and should allow you to start gauging his or her true personality. What are their likes and dislikes, what do you have in common, what does he or she do in their spare time? 6. What do you like to do when you're not working? 7. Are you more of a TV person, or do you prefer movies? 8. Depending on the above answer, ask what they're watching, or what they've seen lately.
9. What type of music are you into? 10. Have you traveled anywhere cool lately/do you have any trips coming up? 11. Have you read any good books recently? Phase 3: Things are starting to get comfortable… If you and your date are really starting to hit it off, it's time to start slipping in some slightly more personal questions, while making sure neither of you feel compelled to reveal too much.
Some of these questions may seem silly at first, but they can be very telling. They'll also further loosen the two of you up and can lead to some funny, . 12. Are you a cat person or a dog person? 13. If you could only eat one thing for the rest of your life, what would it be?
14. Do you have any nicknames? 15. If you won the lottery tomorrow, what's the first thing you'd buy? 16. Do you have any siblings? 17. If you could be any person for a day, who would it be? 18. What's your biggest pet peeve? 19. Coffee or tea? 20. Where else would you consider living? 21. Are you as tired of KimYe as I am?
22. Do your parents still live in the house you grew up in? 23. What's on your bucket list? 24. Are you a morning person or a night person? 25. Do you ever cook? 26. Do you like your job? What do you want to do next? 27. What's your social life like? Do you have a big group of friends? 28. Do you consider yourself career-driven? 29. What are you most passionate about? 30. When's your birthday? Getty Images Phase 4: Sign Me Up for a Second Date Time to seal the deal—the last few minutes of a date are crucial to make sure a second date happen.
If you think things went well, don't be afraid to let him or her know. The final questions should easily transition you out of the date while subtly implying that you'd be .
31. Can I split the check with you? Okay, can I at least leave the tip? 32. How is work looking for you this week? 33. Did you like this place? 34. Do you have any fun plans for the rest of the weekend? 35. Do you have a busy week coming up? 36. How are you getting home? Getty Images Phase 5: Let's Keep the Date Going This phase is tricky, and should only be reserved if you're really feeling strong vibes.
If you're confident, ask if she or he would like to continue the date someplace else. Suggest a (PG-rated!) to the night rather than simply going your separate ways after drinks or dinner.
37. There's this cool bar I know around here, want to go grab a drink? 38. Want to get coffee/dessert after this somewhere else? 39. My friend's actually having a party a few blocks away, do you wanna stop by? 40. What are we doing after this? MORE: 7 Ways to Turn Your Hookup Into a Boyfriend
11 QUESTIONS TO ASK ON A FIRST DATE!
Best married dating ideas first date questions ask guy
Rating: 6,2/10

1410

reviews